Well a lot did happen during these 8 weeks!
Coach Justines success at The 2015 Schwartz challenge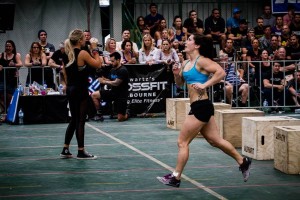 Justine traveled to Melbourne to compete at whats widely known as Australias most prestigious CrossFit competition outside of Regionals for the Schwartz challenge on the 7th and 8th November.
Over 2 days of competition doing 3-4 extremely challenging wods a day against many of the top females in Australia Justine came away with a 2nd place finish on the podium!
Justine won event 1 and from there grew in confidence with some exceptional performances that left many competitors in shambles, Jus came out smiling 🙂
Congratulations Justine!! We were all watching the results on wodbuzz and cheering you on from a far, everyone at CFLM is so proud of you.
Justine has been training extremely hard since Regionals this year following a new program and this weekend was a great result that showed she will be a force to be reckoned with in 2016. Such an inspiration to all our members as to what hard work and dedication can achieve.
CFLM First Games Day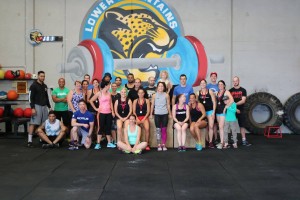 The games day was a great success!
Event one:
-was a thruster ladder. Each team had one minute to perform a thruster as the weights increased through the ladder. If someone missed their thruster they completed 5 burpees before their partner could lift.
Event two:
For time:
800m partner carry
15 muscle ups/ 20 c2b + 20 ring dips
60 toes to bar while partner held the bar in a hang
40 deadlifts while partner holds deadlift bar statically 110/75 90/60k
20 s2oh while partner holds bar in rack position 70/50 60/40k

Event 3
10-8-6-4-2
Cleans 70/45 60/35k
*Push the sled with your partner sitting on it 30m after each set of cleans
The Games day was a lot of fun! All of the teams performed really well and worked so hard for each other. The team spirit on the day was excellent!
Before the awards everyone shared lunch together that Daniel and Justine had made of salads, Sweet potato and chicken (Nandos)

The spirit of the Games award went to Todd Leydecker! Todd judged more heats than anyone else and was constantly cheering everyone on all day. Running after and alongside the teams that were fighting hard to keep going.

Advanced Men
1st: Tim Good and Sarafu Fatiaki
2nd: Nick Boscott and Lachlan Moore

Open Men
1st: Nathan Brown and Todd Leydecker
2nd: Joe Mcmanus and Alex Polutele
3rd: Hamish Elliot and Joel Brown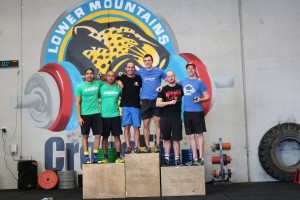 Women
1st: Carmel Fletcher and Melanie Kneller
2nd: Jade Fameli and Vanessa Roberts
3rd: Liz Ward and Katie Walsh

The Matti Tikka PowerLifting competiton 6th November
We were lucky enough to play host to Australia's most prestigious Powerlifitng competition.
This was an IPF sanctioned event in which drug testing is possible following the strict code of the International Powerlifitng Federation.
Each athlete had 3 attempts at a 1 rep max Back squat, Bench Press and Deadlift.
With 50 competitors lifting many of whom had flown from interstate to compete, over 16 Australian records were broken!!
One female competitor Elizabeth Craven, at 52kg body weight Deadlifted 172.5kg to break the current WORLD RECORD for her weight class!
With the generous space allowed by our facility, the athletes agreed that ours was one of the best venues they had lifted in with ample arm up area, competition area and room for spectators.
At one stage there were 150 people in the gym lifting and spectating which made for an incredible atmosphere.

Member of the Month October


Kerry Boscott
Kerry has been working so hard on her gymnastics skills after most of her classes, staying back and doing those extra reps to get the strength gains! Kerry is also a busy Mum with 2 kids who balances her family and training beautifully week in week out. By keeping up her training it gives her more energy for family life.
TRUE PROTEIN
A new order of True Protein flavors is sue in this week so be sure to ask and we can keep supplying you with the best protein supplement getting around!

2015 Christmas Party!
The CFLM Christmas party is fast approaching and will be held at Outback Steakhouse Penrith on the 12th December. Its going to be a fun night, good food and a few drinks! We have some awards to give out to commemorate a brilliant year of training and moments in the gym that we love. Really looking forward to having a great evening with all of our crew!