"What is gymnastics?"
Exercises developing or displaying physical agility and coordination. The modern sport of gymnastics typically involves exercises on bars, beam, floor, and vaulting horse.
Most exercises using your bodyweight as resistance are considered gymnastics.
Push-up, chin-up, handstand, rope climb,
Gymnastics ring work.
Our 45 minute gymnastics class on Saturdays at 715am is the perfect boost to your weekend!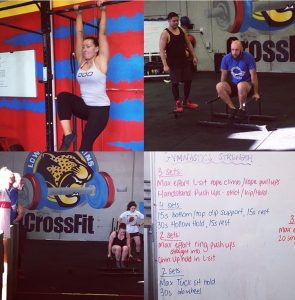 All Levels of strength and ability are welcome.
We focus on developing strength and applying that strength each week to Push-up, chin-up, handstand, rope climb, and Gymnastics ring work in a motivating team environment.
Our classes usually have 4-10 participants mostly beginners and our coaches love seeing your gains and progress.
If you have a weak core or suffer from lower back pain this is also an excellent class for you, as all gymnastics movements start with having a strong midline. We develop that weekly.
Drop ins welcome!
715-8am every Saturday at CrossFit Lower Mountains
0433 540 427