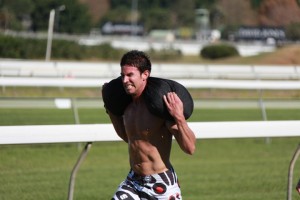 Competing at Regionals 2010 at Randwick Race Course
You may be in the verge of deciding to register for the CrossFit Open for the second time or even the first.
This year will be my sixth CrossFit Open, my first was at the not so young age of 29 in 2010.
That year the open was just another weekend comp that everyone was going to at Newcastle but this one ran for 2 days and was a qualifier for the next biggest Comp of the year that I thought was the Australian championships. But turned out was the Australian Regional games.
I did ok at the Sectionals (open) in 2010 and came 30th out of 80 guys I think we're there. The top 20 men went on to Regionals.
In 2010 CrossFit had not really taken off yet and any team that wanted to go to Regionals could go. I was picked by our head coach at CrossFit Penrith as a team member and it was a great experience being part of a CrossFit team and competing with the others teams at Randwick race course that year.
The next year 2011 was the first online world wide Open.
I had moved gyms and was training with some of the fittest guys going around and it was just a given that everyone would register for the Open.
Our head coach at CrossFit Norwest went on to win the Open in Australia that year and come 9th worldwide.
It was such a great thing to be a part of the excitement seeing the rankings each week not only against my mates in the gym but also against all the world wide stars like Rich Froning, Jason Khalipa, Graham Holman.
The Open makes you feel part of something huge and to do the same wods that everyone else on the whole planet that loves CrossFit is doing within those 4 days. It is literally the best 5 weeks of the year for CrossFitters.
Each year that has gone by I have been motivated by different things, the second year was a slim hope I could improve enough to make Regionals.. But as the sport gained in popularity people were training harder and more and more talented and younger people were popping up.
As the years have gone by I have been driven by my internal motivation to improve myself so that the next Open I can improve on how I performed last year.
We all do wods that we feel like we could do better in, each year during each open a wod would come up and it made me want to get better at those skills so that the following year they wouldn't feel as difficult for me.
The motivation that comes from each years results at the open to keep training harder, getting stronger, making gains, improving technically on toes to bar, double Unders, thrusters, Muscle ups everything really…Burpees!
Each year the open comes along and you will be fairly judged in your home gym by your friends on how hard you have been working on your fitness for the previous year.
You may have had injuries, holidays, deaths in the family, relationships crumble, changes in jobs, but your fitness and health is a responsibility you must make number one and training for the open for me is that test I chose to see where I am at against people around the world.
As I get older it is great to compare against your own age group or age bracket which you can do on the world wide leaderboard by selecting which age bracket you fall into.
I have friends at the very top of the sport who will qualify in the top 20 of the Australian Region this year and I am lucky enough to get to train with them regularly and be part of their journey to the CrossFit Games.
They smoke me in training, they are at the top of their game and in their prime, but we will still do the same wods for the open and it is a wonderful thing to experience each open wod with them and see how many rounds they will get in the open, that is where you truly see what human beings are capable of when it comes to work capacity
For me the Open is an annual fitness test and it is a test of my fortitude, it is a benchmark for for me to test my 10 general physical skills
Strength, accuracy, flexibility, stamina, power, speed, balance, agility, cardiovascular endurance and co-ordination.
To have these skills tested in the fairest of playing fields and on my home turf with my mates, by quality judges, and we will all suffer the same way and be a part of history as each Open wod becomes part of CrossFit legend.
Do the Open this year because if you have not done a competition before it is a great introduction to being in a heat, to having a judge and to being scored for real where your scores are officially being recorded on a larger scale.
Probably the reason that drives and excited me the most about the open is all the memories of how everyone cheers for each other during the heats on Saturday each week, the team spirit that is created. Everyone gets nervous before hand together and celebrates at the end together that it is completed and you have done your best and been a part of something huge!
DC
Daniel Condon
Head Coach
CrossFit Lower Mountains