Joining a CrossFit group class for the first time can be a big decision, but once you come to CrossFit Lower Mountains you will realise the environment is not as scary as you thought!
Our class members range in age from 17 to 62 and with experience levels from less than 3 months to +3 years, we have a broad range of abilities in every class.
Everyone does the same workout each day, but the movemenets are all scaleable to your personal ability level. Over 50% of each class scale the movements or weight to suit themselves which makes for a very personal experience every time you train.
Our coaches are highly skilled motivators and will get the best out of you every session.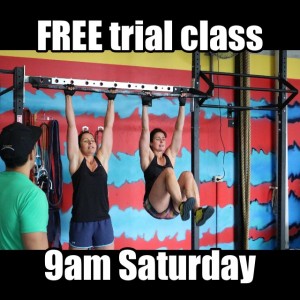 Our free trial class at 9am Saturday currently Coached by Justine Beath, one of the best and most inspiring CrossFit coaches in Australia, will give you a taste for what CrossFit group exercise is like.
Duirng the class you will:
Meet our coaches
Learn some fundamental barbell skills
Learn some kettlebell and bodyweight exerices we use for cardiovascular work
Do a short CrossFit workout!
Discover how our classes work and what's involved in doing some weekly group classes with us.
The class will last for one hour and all you need bring is water, a towel and a willingnness to learn and work hard.
For more information or to book your FREE trial class call Daniel on 0433 540 427