CFLM NEWS:  Congrats to all members who participated
 in our testing week. For those of you who made significant increases
 in your strength and  endurance well done, we are super proud of you! You have shown that  hard work
 is easy work"!
OLYMPUS UNLEASHED​ :
Congrats to the following teams who proudly represented CFLM:  Shane and Boots, Alex and Hicksy, Kacey and Bec C, Kara and Bec H, Kate and Dana, Nick B and Katie, Jess and Bel W, Griff and  Swigg, DC and Carmel, Mel and CC, Patto and Camo, goody and Justine, Nake and big dog Kane  We had a few people finish up on the podium which is always a bonus
 which were:   Kate and Dana, Camo and Patto, Carmel and DC and Goody and Justine.   We had a very strong presence at FITHQ and everybody not only did us proud because of their effort but really got behind one another during each workout. Many people set personal bests during the clean and jerk and snatch components and achieved  things they didn't think they were capable of.
Member of the month:​ July: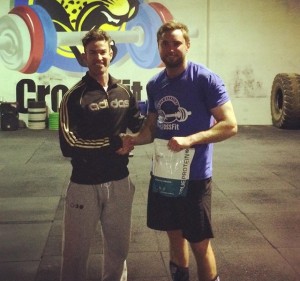 ​ Adam Lowe​­ Adam was awarded member of the month for his persistence and constant effort. He has come consistently to class  and always puts in his best effort. He always supports others when he is finished and really demonstrates
 what the CrossFit  community is about.
August​  :​ Laura Scott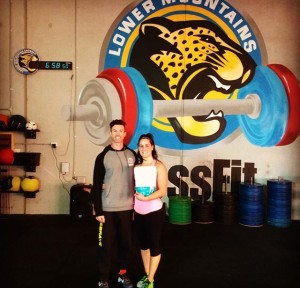 Daniel and I both agree, Laura puts in so much  work. Every wod we see her push really hard and gives it everything. She has seen some really great strength and fitness increases  which is credit to her consistent attendance! Not only that, Laura is incredibly "coachable". She takes every little bit of feedback and  is always trying to improve!
Upcoming competitions
​ :  Demarc 4 ​at crosfit raw commando ­ advanced only Comp ­2nd October   Capitals unbroken challenge­ ​10th October   Benton massacre​ 15 ­ 21st November     Not all of these are open for rego still. If there are anymore you have seen, please feel free
 to ask us anything questions about them  .
NEW TV:   As most of you had probably now realised we have a new addition to the family at CFLM­ the TV!  It has been set up specifically in the  stretching
 area" as we plan to play CrossFit videos which are motivating
 as well as we are  hoping to eventually start filming some class wods and we can play it back.   The switch is quite high so if it is turned off, Justine may need some assistance to turn it on!
True Protein
​ :


We have this available to buy from the gym for $45 per bag.   There are a range of different products they sell which we have ordered but If you have had a look and there's something we don't  have, let us know and we will look in to possibly getting in.  We sell the ­  Oats and Whey   True Pre (for pre training only)   True Post ( ideal for post training as its higher in carbs and bcaa)  Whey Protein Isolate in a range of different flavours. Perfect for a snack if you're on the go!     Stacked up meals​ :   We sell these for $12 per meal and are perfect if you're time poor. They're nutritious, fresh and very flavoursome! Ask the coach for  More info!
Upcoming programs:   As most of you know, daniel will be launching a ​running program
​ . This is designed to be done additional to the program that is put  up on the website. We would advise anybody who is looking to increase true fitness or shed excess body fat, to participate
 in these  extra running sessions.   We will be running a "running clinic"'in the upcoming weeks to stay tuned for details!

"Surround yourself with those who CHALLENGE you, PUSH you and MOTIVATE you."   We have so many people who train at our gym for many different reasons. Some people want
 to lose weight
, others want to get fit  an then there are goals that are more specific like wanting to place at competition
, wanting to make regionals etc. regardless of the  goal, to achieve it we need to be constantly challenged and push beyond what we believe we're capable of….. To do this we need to  be motivated and stay motivated. Find what it is that drives you and use it everyday to get the most of your workout. You won't  regret it!
Hope you have enjoyed reading everyone!     Justine Beath